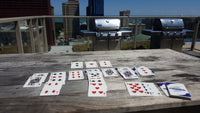 Windproof
4x heavier than standard playing cards. Unless you're playing cards in an actual hurricane, you'll be set.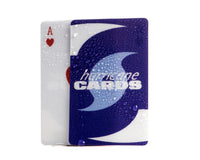 Waterproof
Made of plastic, these cards are resilient to water, soda, beer, you name it!
If they get dirty, simply wash them in the sink, dry, and you're good to go
What are the dimensions of the cards?
- 2.2" wide x 3.4" long (slightly smaller than standard playing cards)
- Each individual card is about as thick as a credit card
- A full deck is approximately 1.7" thick
Can you shuffle the cards?
Yes you can, it simply requires a slower, more deliberate approach as opposed to a standard fast shuffle. OR simply cut the deck in half and shuffle with ease
Do you ship to Canada or Internationally?
We have finally solved this! We now ship to the UK, Canada and Australia! More countries to come.
Are the cards heavy to hold?
No! Although they are heavier than standard cards, you can play a full game of rummy (for example) without any 'hand fatigue.' A full deck is less than 1lb
Free Replacement Promise
Need a replacement card? Lost one in the sand or dropped one in the lake? Just email us with the card and suit and we'll ship it over! ***To addresses in the US
(Bonus - The deck comes with 2 Jokers)
Contact Us
Send an email to HurricanePlayingCards@gmail.com with any comments, questions, or accolades